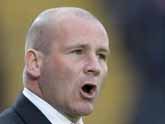 Queen's Park Head Coach Gus MacPherson completed two months in charge of the League 2 club this week and took time this week to discuss what he has learnt in his first stint in football in the fourth level of theSPFL.
As well as looking back at his opening period at the Spiders the former St. Mirren and Queen of the South manager is keen to look forward towhat he hopes will be a return to a challenging position next season.
MacPherson said: "It has been an exciting and thoroughly enjoyable start to my time at Queen's Park. It has been good getting my teeth back into something after being away from the management side of things for a while."
"This is a long term job due to where the club is and I don't just meanin terms of the playing squad." The 45-year-old explained his last statement by adding: "There is a lot happening on and off the park in terms of our year playing out at Airdrie and training at Toryglen because of the Commonwealth Games.
As a club we are already very heavily involved in making sure we get things right for next season." "My assistant Chris Hillcoat and I are looking at the playing side of things at a first team level but there are lots of people looking to help with all the important work that goes on at the many other levels Queen's Park works on."