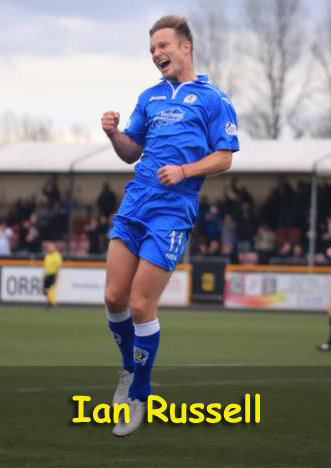 Iain Russell, by his own account, didn't perceive himself as someone who would suffer from depression.
The striker, then 28, was in scoring form with Livingston. He celebrated the arrival of his son, Alfie. He was, as he says, "loud within the dressing room".
But there were days at Almondvale he started to find himself isolated. Wishing he didn't have to train. Locking himself away from his team-mates, reluctant to speak out. Missing meals.
Now 31 and with Queen of the South, Russell sought help and shared his issues with supportive team-mates and manager.
Now he wants to encourage others that there is no stigma, no shame in admitting to having issues with their mental health, particularly his fellow professionals.
"I'm over the worst of my illness," he told STV. "Being able to speak about it now and being open about it, hopefully it will help other people."
Russell has made a frank, revealing contribution to a film, Mind Games: Mental Health in Scottish Football, produced by footballers' union PFA Scotland.
"Some days I would go in and I wouldn't want to be there," he said. "I would sometimes go and sit in a room where none of the boys were. I didn't want to train.
"Obviously at that stage when it is affecting your job, I knew I had to do something.
"I never wanted to believe [I had depression]. I remember when I first saw the doctor and I was prescribed anti-depressants.
"I didn't take them. I didn't think I needed it. It was ignorance from myself.
"But other people, in my experience, have been brilliant. If I say anything to them about it, the support has been brilliant.
"I think you'll find a dressing room, a football dressing room, is probably the best place to be. I didn't find it hard personally [to open up].
"I think in a football dressing room, most boys will tell you, it's a great place to be if you're feeling low or if it is something up. They'll normally make light of it and make you feel better about it."
The film, in which Celtic manager Neil Lennon lays bare his well-documented battle with depression, will be available to watch on the PFA Scotland website in the coming days.
Anyone with concerns about mental health issues is advised to contact the Scottish Association for Mental Health.