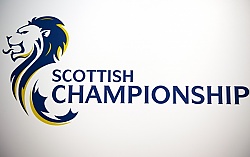 A former Livingston director is asking the Court of Session in Edinburgh to freeze the club's bank accounts, and if successful it could force the club into administration again.
Ged Nixon is claiming the Almondvale outfit owe him more than £300,000.
A source close to the club has told BBC Scotland that if Nixon succeeds Livi may not be able to pay salaries and could go into administration.
Salaries are due to be paid on 25 December.
BBC Scotland understands the players will be told about the situation when they arrive for training on Monday morning.
Livingston have already been deducted five points by the Scottish Professional Football League after they admitted breaching league rules regarding the non payment of tax to HMRC.
The club have refused to comment on the situation and so far Nixon has not been taking calls.
The case is scheduled to be heard at the Court of Session in Edinburgh on Wednesday morning.
Livingston went into administration in 2004 and then again in 2009.
The Almondvale club are bottom of the Championship but they hammered 10-man Raith Rovers 5-1 at the weekend