Lockerbie: A story beyond tragedy, a
story of curling and Olympic pride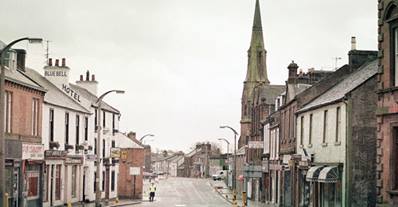 SOCHI, Russia – I am in a curling hall that sits on the Russian coast of the Black Sea, trying to write a story about a town that sits near the Scottish coast of the North Atlantic, a town I should have written about a dozen years ago. My own selfishness and failures got in the way. I hope this somehow helps make it right.
Inside the hall Friday, a 35-year-old named David Murdoch led Great Britain's curling team into the gold-medal match against Canada at the Sochi Games, and the most incredible thing was happening: Murdoch was going to win an Olympic medal less than 24 hours after two other women from his small town won curling bronze.
The world knows about this town, only it doesn't. It knows that a terrorist planted a bomb in a 747, and the 747 exploded over the town. It knows that all 259 people aboard Pan Am 103 died and the wreckage killed 11 on the ground. It knows – or at least it thinks it knows – that an incredible sadness has saddled the town ever since, that tragedy knows no statute of limitations.
I know another side of Lockerbie, Scotland. That's the story I prefer to tell.
------
My first night in Lockerbie, I got sick, the sort of sick you remember 12 years later. A bad piece of chicken Kiev was the culprit, which I suppose was proper penance for ordering chicken Kiev at a Scottish pub. My hosts on the trip, a wonderful couple named Alistair and Sue Stevenson, felt terrible. Sue offered a glass of water. Alistair offered to teach me how to drink like a true Scotsman, scoffing at my chicken story despite my protestations that I could handle three pints, thank you very much.
[Photos: Intense faces of Olympic curling]
For the next 10 days, and another week a few months later, the Stevensons became my second family and Lockerbie my second home. It is a visually staggering place, with rolling hills that pitch upward toward the Lockerbie Golf Club. I played a round there with a couple seniors, both named Bob, who called themselves the Abominable Slow Men. I watched a soapbox-derby-style race and ate fish and chips and went to the small gambling parlor and hit countless farms around the area, including a few with a guy who hunted moles for a living, just as his dad had. I even wore a kilt, replete with a sporran and knife and all the accouterments, and danced. Horribly.
David Murdoch honed his curling skills in his hometown of Lockerbie. (USA Today)
And when I thought I couldn't feel any more Scottish, Alistair took me up the road to the Lockerbie Ice Rink, the heart of the town. The rink served as Lockerbie's social hub, its sporting essence, its truest jewel. Of all the places to churn out elite curlers, Lockerbie, a town of about 4,000, became to Scotland what the Kalenjin tribe is to Kenyan runners. Scotland is curling's birthplace. The polished granite stones used in every top-level match come from Ailsa Craig, a tiny isle about 10 miles off the west coast. Children are born into the game, and Lockerbie makes it especially easy for them to adopt it: The rink is across the street from Lockerbie Academy.
We walked onto the ice, slipped on the proper footwear to help us glide, grabbed the broom used to sweep the ice and started sliding. The technique was easy enough to pick up after throwing a couple stones: Step back with the left leg, push off a step mounted into the ice, slide the right leg and let the stone go with the ever slightest bit of spin to help it curl toward the button, or the middle of the target. Mastery of technique and proficiency, of course, were not bedfellows. All of us novices at the rink were dreadful curlers.
Which did not matter. The point of curling was enjoyment, both on the ice and afterward in the pub that sat next to the sheets. We guzzled our drinks and laughed about how bad we were and carried on late into the night, because that's what you do in Lockerbie.
------
The story was always there, in that rink back in Lockerbie, a nerve center for the town's past, present and future. During my visits, a local historian explained how and why it was built in 1966, and a person who helped in the aftermath of Pan Am 103 talked about how it served as a makeshift morgue, and Alistair, then the chairman of the rink, beamed at what it had become: not just a place with top-notch coaching to yield champion after Scottish champion but somewhere that just as well encouraged a group of amateurs a few drinks deep to partake.
I was there to help write a book. During my senior year at Syracuse University, two professors wanted to use words and pictures to tell the story of present-day Lockerbie, a humble Scottish town with a soul that far exceeds its unimaginable misfortune. Thirty-five of the passengers on Pan Am 103 went to Syracuse, and over the years the school and Lockerbie forged an incredible relationship. Two Lockerbie Academy students take a gap year at Syracuse annually. The university hands out Remembrance Scholarships in honor of the victims to its best and brightest students. The book would deepen the bond.
[Photos: Wild curling pants of Sochi]
I never wrote the story, or any of the others assigned. I graduated that spring, got a job and prioritized it over the book. Another student on the trip asked me when I would write the stories. I told her soon. I had every intention of doing so. My job – my egocentrism – got in the way. One of the professors reached out. I was too ashamed to respond. The embarrassment still eats at me.
Then about 48 hours ago, a colleague emailed me. He knew I had visited Lockerbie. There's a great story, he said: David Murdoch is from there. Perhaps I could write something about it.
Immediately, the shame crept back. It felt, I don't know, wrong, like I blew my opportunity the first time. And then I started thinking, and maybe it was rationalizing, or selfishness masked as something else, but everybody else was going to write about Murdoch and Pan Am 103, how he was in his dad's car less than 1,000 feet from where the fuselage hit, because that's all anybody knows or cares to learn about Lockerbie. Murdoch deserved more. The town deserved more. And I don't know if I can deliver that, but I wanted to try.
------
Murdoch grew up in the Lockerbie Ice Rink. His father, Matt, is a national champion curler, as is his sister, Nancy, and Murdoch won a European Championship with his brother, Neil. Curling originated as a game for farmers, and like so many in Lockerbie, where the biggest employer is the Lockerbie Creamery – "The Cheesy," people there call it – the Murdochs were dairy farmers. Matt met his wife, Marion, at a Young Farmers movement event, and they've been married for 44 years.
Fans cheer on Murdoch and Britain's curling team in Sochi. (Getty Images)
Curling has taken them all around the world. Matt's and Marion's passports include dozens of stamps. And while they've seen Murdoch beat 2010 Olympic gold medalist Kevin Martin and win a pair of world championships and assert himself as one of the sport's best skips – the skip does everything from strategize targets for his three teammates to throw the final two stones of every end – this was bigger, almost too big for their nerves.
A day earlier, they watched Anna Sloan and Claire Hamilton win a pair of bronze medals. They represented hope. Neither was born when Pan Am 103 crashed. Both flourished in post-disaster Lockerbie. To complement that with a gold medal – to call Lockerbie the hometown of Olympic gold medalist David Murdoch – would sound so wonderful. It would give people something else to call the town.
[Related: How curling works]
Though, in truth, it could just as easily be called the unlikeliest curling power around. Everyone has a theory why. Maybe it's the proximity of the rink or the emphasis on its importance or the farmer's good stock. Matt turned toward Alan Durno, the president of the Royal Caledonian Curling Club that serves as the governing body of Scottish curling, and sought his opinion.
"Alan, why do so many good ones come out of Lockerbie?" Matt asked.
"You started them when they were young," Durno said.
Murdoch threw his first stone before age 10. The Lockerbie Ice Rink offers club games for children as young as 6. The wee ones all go to the same teacher. She reared Murdoch, Sloan and Hamilton. And her theory on why Lockerbie produces so many great curlers is simple.
"Because," Marion said with a cheeky grin, "I've taught them."
------
The bagpipers outside the Ice Cube Curling Center kept upping the ante. First they were playing "When I'm Sixty-Four," and then "House of the Rising Sun," and then "We Will Rock You," and when they blew the opening riff to "Thunderstruck," Marion Murdoch couldn't help herself. She jumped and spun, spun and jumped, locked arms with whoever offered her one in return, going from person to person, spreading love like she always does.
Murdoch and Britain's curling team didn't lack for supporters in Sochi. (Jeff Passan)
Although she was joking, Marion was right. She does make Lockerbie curling great. She and all of the others who infuse in children a love for the sport and an appreciation for what Lockerbie does have, not what it doesn't. It has all 4,000 of its people, its teachers and farmers and mole hunters and lawyers, shutting down their businesses and closing school early Friday so the town can come together to watch David Murdoch.
Over the last two weeks, he led Great Britain to a 5-4 round-robin record, won a tie-breaker against Norway 6-5 with two points in the final end, upset top-seeded Sweden 6-5 in the semifinals with another two-point 10th and found himself here, skipping for gold.
About a half-hour before the match started, the bagpipers took a short break. It was time to go into the arena. Before Matt and Marion headed toward their seats, Matt turned toward me.
"It's finally a happy story about Lockerbie," he said.
------
About 15 minutes before the first stone slid across the sheet, Matt Murdoch eyed his son's practice throws. He and Marion sat in the front row. As she strung up Union Jack bunting that matched her vest, Matt looked for the small tells of how his son would perform in the most important match of his life.
"When he plays his stone, I just watch his body language to know if it's right or not," Matt said. "Oh, yeah. He'll keep [his body] down there if it's good. If he jumps up too early, stands up, you know it's not right."
Canada entered the match a strong favorite. It beat Great Britain in their round-robin game 7-5 and found ample bulletin-board material for the gold-medal game when British coach Soren Gran complained about the Canadians' fist-pumping on-ice demeanor. Matt tried to project confidence anyway, in interviews with the BBC and calm looks when cameras from across the arena framed him in tight zooms.
Marion converted any anxiety into bellowing. In the middle of the first end, she started to chant:
We'll be coming
We'll be coming
We'll be coming down the road
When you hear the noise of the Tartan Army boys
We'll be coming down the road
Murdoch and the town's curling history, in general, are a source of pride for Lockerbie. (Jeff Passan)
Marion punctuated the classic Scottish sporting mantra with a woo-woo or a choo-choo, and others joined in. When she wasn't wooing or chooing, she was tooting on a horn, always making noise, good or bad. Canada went up 2-0 in the first end, Murdoch missed a chance to tie it in the second end and settled for one point, Canada followed with a monster three-point end, Murdoch missed another shot in the fourth, and just like that the score was 6-1, practically insurmountable against a team as precise as Canada.
"It's just one of these days you can't figure out," Matt said. "They weren't expecting it. We weren't expecting it. He'll be disappointed for himself and his team, and for his supporters, but he'll play on."
Marion kept waving her flag, and Murdoch remained off, and she kept singing anyway, urging her son to keep coming down the road. Durno, the governing body president, yawned.
"That's a terrible one," he said.
"I feel sorry for the boys," Matt said.
"It's rather unfortunate," Marion said.
The arena went so quiet two toddlers' cries echoed off the ceiling. Marion stopped singing. Murdoch missed another shot. It was obvious. He stood up quickly, just like his father said he would.
"They're shell-shocked," Durno said.
"Ay," Marion agreed.
Canada scored two more points in the sixth end and moved ahead 8-2. They played two more ends, and after the eighth Great Britain conceded the game. It was akin to a mercy-ruling. Final score: Canada 9, Great Britain 3. There would be no gold medal going to Lockerbie.
------
David Murdoch cried when the match ended. He took the classic Olympic bromide about letting his country down and localized it. This wasn't his gold medal. It was Lockerbie's, or was supposed to be, and instead, Murdoch said, "It just feels like a little bit of a kick in the teeth."
[Watch: 'The First Family of Curling' in Sochi]
For three Olympics now, Murdoch has tried to bring gold back home. In Turin, he lost in the bronze-medal match. In Vancouver, he finished a disappointing fifth. This might have been his last chance. He married a Canadian girl in 2012. They still haven't gone on their honeymoon because of curling's demanding schedule. After devoting his life to the sport, Murdoch may well try to retrieve it.
"I just hope they're proud of us," he said. "We've dedicated a lot of hard years of work into this. And made a lot of sacrifices. I know everyone was cheering it on. I'm so pleased that everyone gave us such good support. It means a lot to me."
Then he started to talk about Lockerbie. About three Olympic medalists going home, the junior champions and men's champions and women's champions and senior champions, the coaching staff, the atmosphere. All of the things that define his hometown. If this inspires even more kids there to curl, helps win the fight for relevancy among young kids, the color of his medal doesn't matter.
Right now, Murdoch can't see that. He was self-deprecating, yes, because a match like that, a complete blowout in a gold-medal game, requires some gallows humor. And yet there was a tinge of sincerity in what he said next when asked whether he would bring his silver medal back home, no matter how absurd the sentiment.
"If they'll have me."
------
They will have him. They will have him because his honorific need not be Olympic gold medalist David Murdoch. Olympic medalist David Murdoch sounds pretty good, too, like Olympic medalist Anna Sloan and Olympic medalist Claire Hamilton. Three from a town of 4,000 in less than 24 hours.
"I'm sure we will celebrate," Marion said. "We've got a lot to celebrate. A silver medal. In the Olympics."
Murdoch is bringing home a silver medal to Lockerbie. (AP)
Murdoch will bring it home, and the town again will take a day off to regale its heroes. There is great loyalty in Lockerbie. It's why year after year families like the Stevensons welcomed new students, certain they would capture Lockerbie for what distinguishes it.
"Looking for Lockerbie" is a gorgeous portrait of a town and a people worth admiring, not pitying – a project of which my friends and professors deserve to be proud. I wish my name were in the book. Since I can't undo that mistake, I only can offer this.
Lockerbie deserves to be humanized. This is its truth: It's a town where a freak accident happened, like it could have in any other town. Lockerbie could have been my town, two towns over, wherever, and to see it through the prism of Dec. 21, 1988, does it an injustice. Lockerbie is Murdoch and Sloan and Hamilton. It's the placid mural on the ice-rink wall of a house hard by a river. It's curling and golf and the Cheesy. It's a quick jaunt down to Robert the Bruce's castle. It's Alistair Stevenson trying to teach me to play cricket and Sue Stevenson trying to teach me how to use a French press. It's not chicken Kiev.
My Lockerbie exists today, not a quarter-century ago. Tragedy did strike there, the most unfair kind, one that lingers like radiation. The town very easily could have collapsed under the weight of its own sadness. And every year, it seems, the memory gets dredged up once again, whether it's new evidence in the still-nebulous case or an anniversary or something to remind the town what it can't forget.
Days like Friday help. Even though Murdoch doesn't live there anymore, it's still home and always will be. He will take his silver medal from this curling hall on the Russian coast of the Black Sea back to his town near the Scottish coast of the North Atlantic, and they'll have him, and this, forever.
Yahoo Sports CANADA