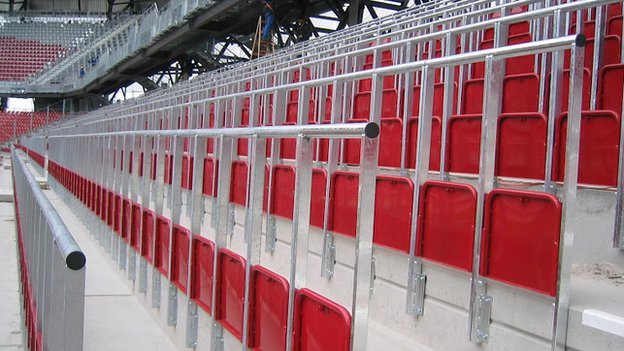 Safe standing aresa are a feature of German Football Stadia
The issue of safe-standing in football and why banning a return to the terraces is a slap in the face for all football fans.
"The majority of reasons for the standing ban being imposed in the first place were fundamentally flawed. Which means there is absolutely no reason why it should not be binned"
FOOTBALL fans mostly stand united on this one. Just outside of the grounds for the time being.
But the safe-standing campaign which is being pushed in England should be pushed now in Scotland because people want it. All-seater stadia have been compulsory in top-level UK football since an inquiry into the Hillsborough disaster.
No one needs a reminder of why the all-seater rule was put in place. No one needs to be told 96 fans tragically lost their lives at Hillsborough.
Yet no one also need be in any doubt Lord Justice Taylor's report was mainly put in place because those in authority were happy to peddle the spin this disaster was down to football fans causing the problems that horrific day in Apri1 1989.
When, in actual fact, the reason many people died was down to the abject actions of police and a dreadful stadium. Liverpool fans had their character undeservedly stained. Football fans had their character undeservedly stained.
This is not conjecture or for debate. The High Court overturned the verdicts of accidental death amid new evidence of a police cover-up in the aftermath, which was published in the Hillsborough Independent Panel report.
Prime Minister David Cameron said the police had failed to do enough to stop the Leppings Lane end of the ground becoming overcrowded and found the safety of the crowds had been "compromised at every level".
So, basically, the majority of reasons for the standing ban being imposed in the first place were fundamentally flawed. Which means there is absolutely no reason why it should not be binned, if that is what clubs and, more crucially fans, want.
Football, for too long, has treated customers with disdain. Where else on the planet do you get a business which asks folk to fork out in excess of £20, and in return hand out a list of things you can't do.
Sports View has already made its feelings clear on the ban on the sale of alcohol in grounds. The hypocrisy and treatment of the normal fan on the issue is disgusting.
Let's get it right, if you wear a shirt and tie and pay for a hospitality ticket you can stand and drink as many pints as you want before and after the game.
But if you wear jeans and a jumper in the adjacent section of the stadium, you are an eejit who cannot be trusted to have a social drink. Standing is just another on the list of don'ts, but that should be changing. Bristol City have become the first UK club to install safe-standing rail seats at their stadium.
They can be unlocked to create either a standing or seated area. Initially the safe-standing at Ashton Gate would only be used during Bristol Rugby games as current rules prohibit their use for football.
But after consultation with clubs, the Football League has agreed to lobby the Government for a change.
Where is the downside?
At a Football League meeting, most of the 72 clubs voted for the plans. Why? Because their customers want it.
Peter Daykin, safe-standing co-ordinator for the Football Supporters' Federation, hit the nail on the head when he said: "If you unpick what happened at Hillsborough, we have successive reports, starting with the Taylor Report in 1990 and finishing with the Hillsborough Independent Panel Report, and they list the reasons why it took place.
"There are numerous reasons, including an attitude that didn't value football fans, where they were able to stand in areas without a safety certificate on crumbling terraces. The report also lists criminally negligent policing, poor stewarding, fences and all sorts of things that conspired for Hillsborough to happen."
Scottish football seems to want it and, from a business point of view, it makes sense. Clubs need to try anything to attract customers. It won't be compulsory to stand up. You can go to a seated area if you want.
Putting the ban in place was wrong. Keeping it is the same.