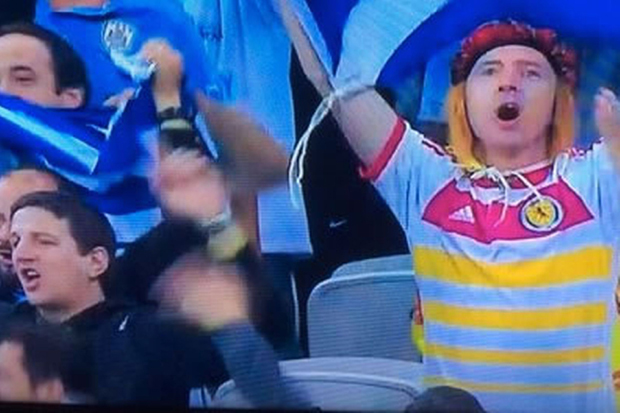 JIMMY hat-wearing Mark McConville who was seen celebrating with ­Uruguay fans was far from the only Scot who watched ­England's World Cup defeat…
We can reveal the crucial match was the most-watched game of the tournament by viewers north of the Border by some distance.
STV's coverage of the Group D game on ­Thursday night – won 2-1 by the South Americans – got 797,000 viewers.
That's more than 70,000 ahead of the next most p­opular – the opening Brazil v Croatia match.
Meanwhile, the ­tournament turn-offs for Scots fans seem to be Japan. Their 2-1 defeat to the Ivory Coast got a dismal 53,000 ­viewers – though it was played at 2am on a Sunday ­morning our time.
Second bottom was the late Group A game between Cameroon and Croatia on Wednesday, with 181,500 viewers, while the Japanese were also in third bottom, as just 201,700 watched their 0-0 bore with Greece.
Hosts Brazil can lay claim to being the second biggest attraction for the Tartan Army. Our old World Cup foes got 724,000 on opening night and even their scoreless draw with Mexico was watched by 656,000 last Tuesday.
That beat England's defeat to Italy, though the 640,000 viewers pulled in made it the most popular late kick-off by a mile.
Of the other matches, Spain's two Group defeats against Holland and Chile were the next most popular, breaking the 600,000 mark.
England's clash with ­Uruguay was watched by 17.9million throughout the UK – it was the highest TV audience since London 2012 opening ceremony.
McConville, 41, from ­Glasgow, became an instant celebrity when he was seen by millions on television wearing a See You Jimmy hat, a Scotland top and waving a Saltire at the Uruguay-England match.
The charity worker is on a mission to ­Brazilian ­orphanages where he's been handing out ­football strips.
Tam Ferry, of East of ­Scotland Tartan Army, said: "Football is all about rivalries and I'm not at all surprised to learn Uruguay v England has been the most popular match so far in Scotland.
"Scotland fans are always caught in the dilemma of either wanting England to get knocked out early or get deeper into the tournament before losing on penalties.
"But they've had an early exit from this World Cup so we can all relax knowing they won't win it."