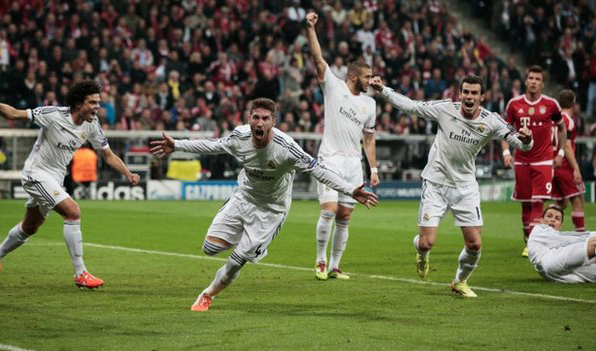 Simply superb from Madrid, simply pathetic from the hosts. Bayern were sluggish, they were passive, they were defensively weedy. Madrid helped themselves to two goals from set pieces, a double for Sergio Ramos, and then finished it as a contest (if they hadn't already) with a Ronaldo breakaway. He scored a second just before the end. Bayern did a bit better in the second half, I guess, but so what? Magnificent from Madrid, worthy winners. Only slight downer was that Alonso misses the final due to a booking, but that won't take the edge off a night for the ages for them.
Is there a better manager around than the modest Real boss Carlo Ancelotti who gets on with the job quietly and hopefully will sort out Mourinho if Chelsea get into the final.
With a reputed Madrid bit for Liverpool's Suarez in the summer they will be unstoppable next season.
It has not gone unnoticed but the assstant coach at Madrid is the superb Zidane.