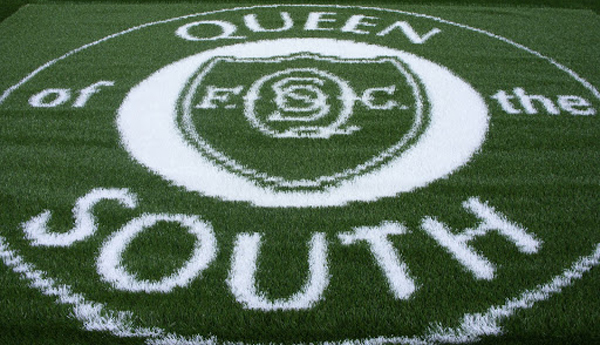 From Queens Official Website
Update from the Board of Directors


We would like to update the supporter`s on what`s been happening at
Palmerston
in the last few months.
At the beginning of September we were in t
he hunt for a new manager
after Jim McIntyre had departe
d for Ross County. A
s a
club
we must
be
doing something right if we continue to lose
manage
rs to Premiership Clubs, but
it can be
frustrating and unsettling at the same time. Fortunately we
have a great bunch of players and the upheaval hasn`t really shown on the park as at this moment we are sitting in third place
in the Championship
. It was disappointing
however
to go out of the
Ramsdens
Cup and the League Cup so early as financially this is a blow to the club as we all know the financial benefits a good cup run can bring.
Hopefully when our name comes out the hat in the Scottish Cup it`s
not alongside
Livingston!
There is no doubt had we
stayed in the Cups longer it would have stretched the squad further as we have had a horrendous run of injuries and it is testament to the lads that have played that we are sitting in third place. Ross Goodwin our physiotherapist has been kept really busy and we have looked at why we have had so many injuries and if there was a pattern
to it
but they have all been so different
?it
looks as if it ha
s really been a case of one of these seasons where you have bad luck
. Thankfully,
Stegs
and Vinnies injuries on Saturday had nothing to do with previous ones, so the week off has probably come at a good time. It also gives Mick and Burner another week and hopefully they won`t be too far away, Mick maybe ready for the
Hibs
game .
Mitch is coming on well but will be longer term but everything has gone well with his recuperation so far.
Regarding the recruitment of a new manager, we took our time and looked closely at all the applications we received but deci
ded to go with James Fowler. James had slotted in really well at
the club after Jim McIntyre recruited him in the
Summer
. He was very experienced as a player and was looking to take the nex
t step up to
management .
This
was why he joined us as assistant manager when he had other playing offers still on the table. The step up to manager has come early for him but he was very imp
ressive in our dealings together
and the message from the players was that they were backing him for the job as well. When everything was taken into account we felt h
e was
the right candidate, we especially wanted cont
inuity, we know we have a super
bunch of players who have grown together and we felt James was the man to take the group forward
.
In this
industry, especially
with social media around, every decision you make get
s put under the microscope, everybody
(
especially with hindsight
)
is an expert but
the most import
ant thing is you learn from the good and bad choices you make
and there is no doubt James has started off his managerial career very well.
He is taking his time in recruit
ing an assistant manager but
wants
to make sure he recruit
s
the right man.
It must have been difficult for him playing as well but as the injury list get
s smaller he has other playing options and it allows him to take a step back. He has also been ably supported by Jim Thomson and some of the senior players in the meantime.
We welcome Liam Jukes to the management team. Liam who has worked with James before will help with both Sports Science and Performance Analysis. Previously the Performance Analysis was sourced from out
-
with the club but now
we have it in
-
house
. The Performance Analysis is a great learning
tool for the manager and players
and with Liam on board he can
tailor it
down to
fin
e
detail which we didn't have before.
Off the
park,
the commercial side headed by Victoria
Thomson is moving
forward
.
I
t is important that we make Queen of the South
Football Club
work as a sustainable business.
This will then allow us to put as much resource as possible into
the pla
ying side.
Christine
Findlater
who was on Paul
Burn
s
`s
testimonial committee has joined the commercial team with a remit of driving the Lottery forward. We are always looking for new agents so if you fancy getting involved she can be contacted at the club office. She will also be out and about speaking to the agents who are working for us just now.
If you take examples of what
St.Johnstone
,
Inverness or Hamilton are doi
ng now, provincial clubs can survive and prosper
in the Premiership without paying ridiculous wages and that is our aim. It may not happen this season or the next but we have to keep pushing that as our goal and as the club develops off the field financially then we can develop
further
on the field.
Ventures which can bring considerable
revenue into th
e club will all be looked at
,
one of which
include
s
using
Palmerston
Park as a concert venue.
The work in the
Rosefield
Salvage Stand will start soon and this will give us new changing rooms and a link to the Ice Bowl so they can be used
when big events are held there,
?so this continues a partnership between ourselves and the Council.
We are looking at further developments on the official website front and Andy Cowan is helping us with that.
We are delighted that Sandra Brown has also joined us as a Press Officer and is bringing
a professionalism
to our press dealings.
The
QOS
arena is working
very
well
. T
he central heating is run by a
BioMass
boiler which gives us an i
ncome as well as
the
Solar Panels on the arena roof. Things like the
soccer schools and
birthday parties mean that a tremendous amount of young people are around the club and this is in addition to all the coaching that goes on ar
ound the region at the schools.
The Office team including the Chairman are
working extremely
hard
on phase 2 of the arena. T
his will involve expanding the area for the Fairy
Bodmother
business which is going from strength to strength and
developing more office space which can be rent
ed out to new business
.
We want to create
a ?business
hub in this area and then the different businesses
can possibly
" feed" off each other which would all help them
selves
dri
ve forward.
We are
involved in promoting Water and Hydration to 40 primary schools across the region in partnership with the SPFL Trust and Scottish Water
.
In the October holidays we had an Open Training day when the first team squad were down and a great day was had by all who attended. We hope in the future to have the squad down training at
Palmerston
at regular intervals.
With the closure of
DG,
the disabled football group were looking for a venue and we have managed to accommodate them on Wednesday mornings.
The Under 20 Development Squad
are
in a purple patch and the performances recently have been superb. Some of the players have been rewarded with being called up to train with the 1st Team squad and James Fowler works closely with Jim Thomson and Eddie Warwick on how the boys are developing. This will hopefully bode well for us for the future and continue the conveyer belt to the first team which
h
as
been fruitful with the likes of Gavin,
Holty
et al.
We are also looking at bringing in a development training session for younger boys which would
then feed into Andy Irving's youth squads. We feel that we may be missing out on boys going to other professional clubs as teams now recruit at a younger age and we don't want to miss out on local talent.
How good was it to see the
Terregles
Street end full for the Hearts
game
?
The club photographer Colin
Johnstone
got some great shots of it a
nd we hope to get some of these
printed and up around the club. We are hoping to get more work done on toilets in this end so it could be used for other games rather than the "big 3" where we imported
portaloos
for the
purpose.
I
t is a case of prioritising monies where we can get a return.
The club was boosted as well with the increased capacity and we will continue to look at this and increase it again in the future with continuing work if we feel it is required.
Lastly ,i
t will not be long until Christmas so put a date in the diary for the Annual Christmas Shopping night held at the club shop wh
ere the players will be present and bargains could be had. I
t will be
held on Wednesday 3rd December, further details will follow.
As always
, many thanks to all the employees and volunteers at t
he club who all do a great job and remember we are a
lways open to suggestions ,all the Director's
can be contacted through the club office.