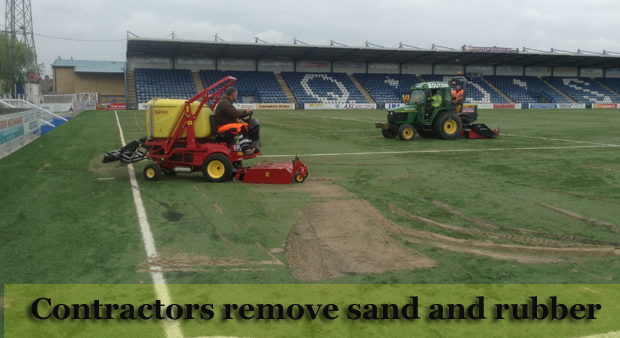 Contractors have moved in to remove hundreds of tons sand and rubber granules from the existing Palmerston turf prior to removal of the existing synthetic surface which has been declared less than satisfactory by the Palmy management.
As little information or pictures is forthcoming from Palmy at the moment due to a complete lack of PR, Queens Mad had a quick look after a delicious square sausage roll and coffee at the Queens Arena.
Had a chat with one of the employees of the contractors from Glasgow and he informs me that work is well underway to remove the hundreds of tons of sand and rubber granules prior to removal and disposal of the existing synthetic carpet.
The existing synthetic turf may be bound for Poland as a representative from there has had a look at it. The existing surface is fine but the pile just doesn't look right compared with Falkirk and Hamilton.
The Sky Sports News cameras visited earlier this morning and a small feature will appear this evening on TV.