Another Boring Home Draw
By Stuart McLaren - The only Team in the Bible
Date 24th February, 2018
Yet another draw at Palmerston this afternoon, and this one definitely will be filed under "boring". How we went from beating this lot 5-2 away to this is beyond me? I am starting to question if we have actually improved under Gary Naysmith. He is leading us to a comfortable mid-table position, but is that enough?
Saturday
24th February, 2018
Palmerston Park
Dumfries
League
Division 1
Attendance :
1,429

Queens 0

Dunfermline 0

Queens Yellows
Jacobs
Queens Reds

Queens Team

Leighfield

Rooney
(Mercer 26)

Fordyce

Brownlie

Mercer

Thomas

Jacobs

Rankin
(Beerman 75)

Murray C
(Todorov 65)

Dobbie

Dykes

Unused Subs :
Fergusson
Lyle
Cameron
none
none
Match Report
Couple of changes for Queens this afternoon, on a bitterly cold February afternoon. Rooney started at right back in a straight replacement for Mercer, while Murray came in for Fergusson, mainly playing left midfield with Dykes up front, although this did seem to be switchable at times. The Pars featured ex-Queens Robinson in goals and Clark up front, as well as their management team of Johnstone and Clark.
At least the report won't take long as there isn't much worth talking about, without giving too much away I could jump right to the end and tell you that Jordon Marshall was far and away our best player, and not in an over-lapping way, but a defensive way.
The first half was very poor, the only 2 notes I made came in 7 minutes, when Leighfield, who despite a couple of shaky moments came out with a clean sheet so obviously didn't do too bad, turned a 20 yard shot up the way, and was very pleased to see the ball drop onto the roof of his net. The other note was when Rooney had to be replaced by Mercer in 27 minutes due to an ankle knock. And that was the 1st half.
The 2nd half was only a little better to be honest, which isn't saying much. In 48 minutes, Murray's shot was blocked and fell to Dykes, who's volley was turned round the post, in what was probably Queens best moment of the match. I actually missed Jack Leighfield apparently pull off a really good save from Nicki Clark in 75 minutes as I was busy watching what John Rankin was up to. Following a clash of heads with Kyle Jacobs (summed up Rankin's performance today!), he was receiving treatment on the pitch as the game went on. Never seen that before!
Dunfermline finished the game much the better, and had a couple of chances to win it. Kyle Jacobs was very lucky to only be booked when, after losing out in a chase for the ball, he hauled a Dunfermline player down on the edge of the box. The resulting free kick saw Leighfild diving the wrong way, but managing to save the shot with his feet, and somehow the ball squirmed by the incoming Dunfermline forwards to safety.
Another draw for Queens then, that's enough of that!


Man of The Match : Marshall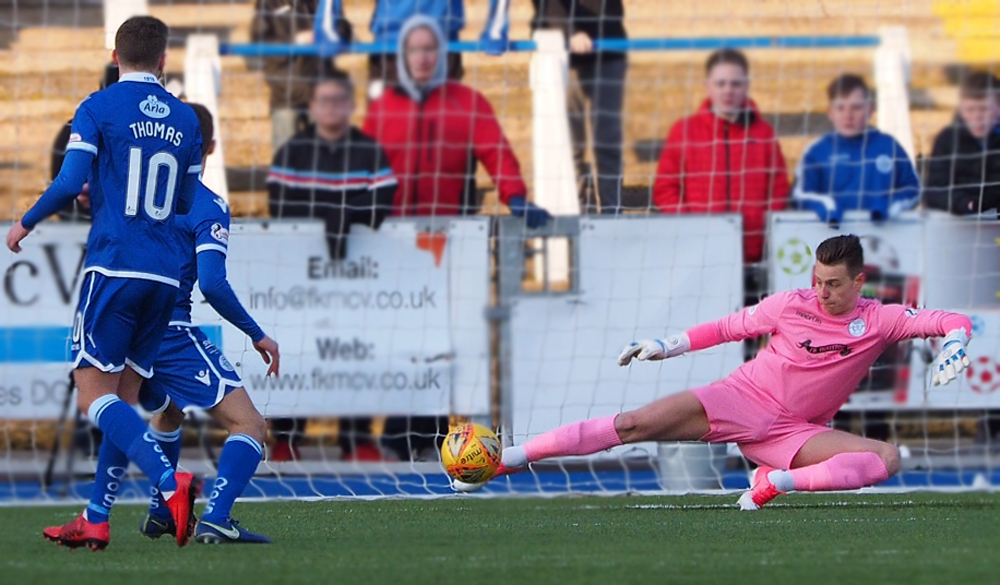 Leighfield makes a save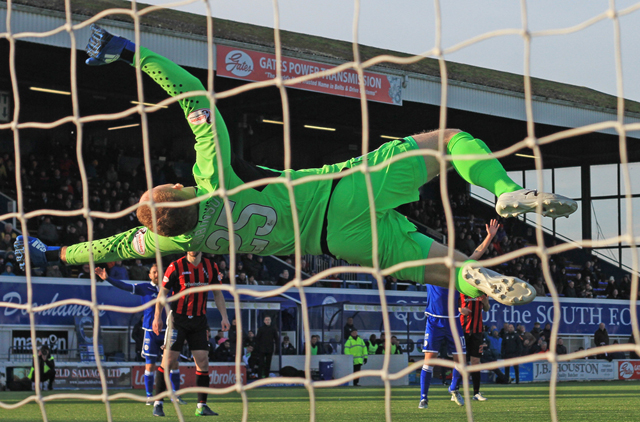 Robinson makes specatular save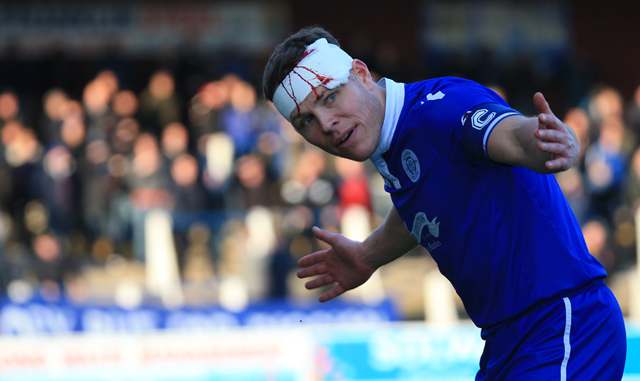 Rankin - captain corageous