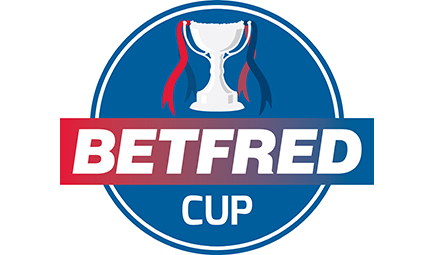 QUEENS MISS OUT ON PENALTIES AGAIN
Hamilton Academical 1 Queen of the South 1 ht: 0-0
Scorers: Hamilton - Boyd 87 Queens - Dobbie 88
Accies boss Martin Canning admitted that he wasn't happy with some of his side's play, but pleased overall with the game time and bonus point earned, saying, "We got the bonus point but when you score that way, you should probably win the game. It was another game in which it's probably slightly different from what we'll face in the league. In terms that both the sides we've faced in the cup have been fairly well organised, sat really deep and made it difficult for us to break them down.
"It's difficult when teams do that, obviously Queens have some good players too. We were on top for a lot of the game and dominated without creating a lot in the way of chances, and didn't put the ball wide enough. That was something I wasn't happy about. We didn't play wide enough or put enough crosses into the box, and continually tried to play through them.
"Our paths were getting blocked, but in the end, it was a really good workout for us and another good 90 minutes for a lot of the players. We've got the bonus point and we'll move on."
Hamilton made one change to the side that beat East Kilbride 3-1 at K Park on the opening day of the season, with former Lausanne defender Xavier Tomas replacing Greg Docherty to make his Accies debut in front of a home crowd. For the visitors, Mercer replaced Rooney up front, with Dykes coming in for Lyle.
Accies went close with four minutes played, after Xavier Tomas sent the ball long to Grant Gillespie out wide right, his cross was met by the head of Rakish Bingham but ex Accie Alan Martin saved comfortably. In answer, Dobbie got onto a ball played into space inside the Accies penalty area, but with the goal at his mercy, he hooked the ball well wide of goal.
It wasn't long before the Queen's keeper was called into action again, first, saving from an Ali Crawford shot from wide, then a Grant Gillespie strike from the opposite end of the penalty area. The pace of the game soon slowed down, both sides finding it difficult to create anything of note as the game slowly approached half time.
The start to the second half was a dire affair, producing literally nothing until Accies won a free kick on 57 minutes, 30 yards from goal, with Ali Crawford's effort sailing well high of its intended target. Then just after the hour, David Templeton made an entrance when he replaced Dougie Imrie, and within moments unleashed a low shot from 22 yards that was well saved by Martin.
Accies continued to have the best of the chances in an otherwise drab second half, when Bingham brought the ball under control out on the touchline, fed a Templeton run, who skilfully made a reverse pass for the charging Scott McMann. His run left three or four Queens players in his wake, his shot from wide was brilliantly saved onto the back post before being cleared safely away from goal.
Sarris had an attempt after receiving the ball outside the penalty area, his turn found him enough space to shoot inches past the back post. Accies were getting closer now, and won a free kick 30 yards out after a rash challenge on Templeton. Ali struck it beautifully, and it took a stunning save from Martin to keep the ball from hitting the top corner of the net.
Just at looked as if the tie was heading for spot kicks, Accies seemed to earn a reprieve when up popped Steven Boyd to score his first goal for Accies, with a blistering volley that beat Martin hands down after his defence failed to clear. Within what seemed like seconds, Queens equalised, when a mix up at the back and foul on Woods, allowed Dobbie to take the wind from Accies sail.
The shoot-out got off to the worst possible start for Accies after Gillespie and Redmond watched as their spot kicks were saved by former team mate Alan Martin, to go two goals behind. Crawford, Sarris and Woods got the side back into the contest with a goal apiece and a save. Queens scored, Bingham scored and Woods saved again.
Goal scorer Steven Boyd calmly struck his penalty hard into the top corner, followed by successful spot kicks from MacKinnon and Templeton that put Accies in front. Up stepped Darren Brownlie to take the 16th penalty. It was struck well enough, maybe three feet above the diving Woods. As it looked as if the ball was sailing into the net, his arm rose ninety degrees to push the ball high and away from his goal!
Accies: Woods, McMann, Tomas, Gillespie, Imrie (c) (Templeton 61), Bingham, Crawford, Gogic (S Boyd 75), Longridge (Redmond 54), MacKinnon, Sarris. Subs Unused: Skondras, Docherty, Donati, Jamieson.
Goals: Boyd 87.
Queens: Martin, Mercer (Rooney 80), Marshall, Fordyce, Brownlie, Murray (Tapping 77), Stirling (Lyle 86), Rankin, Dobbie, Jacobs, Dykes. Subs Unused: Leighfield, Bell, Akubuine.
Goal: Dobbie 88.
Cautions: Jacobs.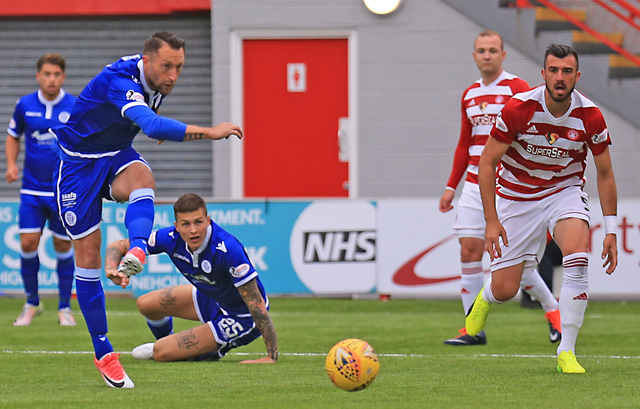 The Dobmeister lets fly
Stirling on the rampage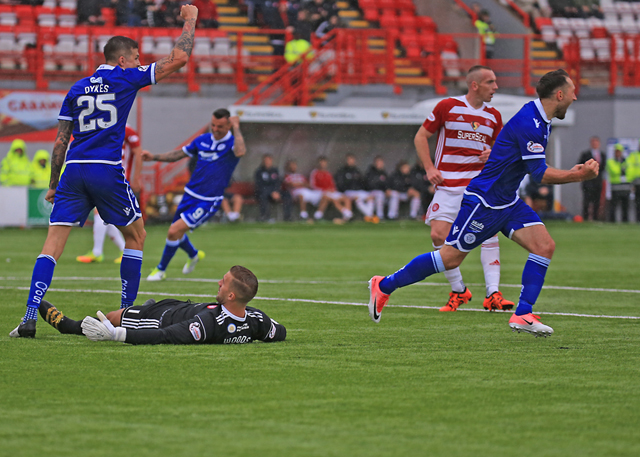 Dobbie celebrates
Images courtesy of www.qosfc.com