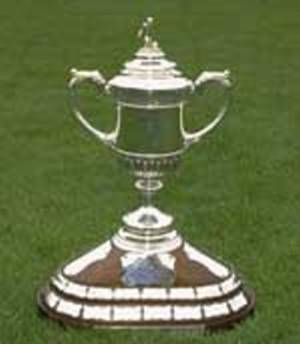 By Stuart McLaren
Date 20th January, 2018
Queens again narrowly failed to overcome Premier League opposition, as for the 2nd year running we lost out 2-1 to Partick Thistle in a cup competition. We gave as good as we got for most of the game, but lacked a cutting edge, and once again struggled to fully clear crosses at the back.
Saturday
20th January, 2018
Palmerston Park
Dumfries
Scottish Cup
4th Round
Attendance :
2,338

Queens 1

Partick Thistle 2

Fergusson (54)
Sammon (81)
Sammon (41)
Queens Yellows
Dykes
Queens Reds

Queens Team

Martin A

Rooney

Fordyce
(Cameron 60)

Brownlie

Beerman
(Murray C 68)

Mercer

Thomson Joe

Rankin

Dykes

Dobbie

Fergusson
(Stirling 81)

Unused Subs :
Leighfield
Bell O
Akubuine
none
none
Match Report
Quite a few changes in the Queens line up this afternoon. With Kerr and Kane now back at St. Johnstone, Calum Fordyce was probably rushed back a bit earlier than we'd have liked, and was replaced after an hour by new signing Cameron, who my mate noticed didn't yet seem sure of how Queens play and was getting directions from his fellow defenders. I'd have put our formation as above, with Beerman (much smaller than I expected) making his debut at left back in a 4-4-2 formation, although some are calling it a 3-5-2 with Beerman on the left of midfield. Thomson looked like he had never been away in midfield, and I take it Lyle still wasn't fit
as young Fergusson came in to partner Dobbie up front. I was surprised to see Mercer start before both Murray and Stirling on the bench.
There was an early half-chance for Queens in the 1st minute when Dykes turned up on the right wing (I was very confused by the formation at this point!), but his dangerous cross into the centre found no takers. In 5 minutes Dobbie shot just wide of the keeper's left hand post from the edge of the box. Queens defence then looked shaky in 7 minutes as a pretty frantic opening spell came to an end with a shot from pretty close range which thankfully was straight at Martin. Things then quietened down a bit until Partick presented Fergusson with 2 chances in 2 minutes on the half hour. First he intercepted a short back pass in the left side of the six yard box, but the keeper blocked his effort, then 2 minutes later he forced a defender into a short back header, but although he just beat the keeper in the race to get to the ball first, he could only screw the ball across the face of goal.
Rooney was having a stormer, and in 36 minutes went on an 80 yard run (his 2nd of the match), but ran out of steam a bit before he could put in a decent cross or shot. To continue the Rooney show, in 38 minutes he put in one of the best timed sliding tackles you'll ever see to stop Sammon breaking clear. We had a warning in 39 minutes when Martin pushed the ball wide after we failed to deal with a corner, before Dobbie had his best effort of the match when he almost caught the keeper out with an early shot from the edge of the box which he nearly curled in at the keeper's left hand post, only being denied by the keeper's late lunge to his left.
Queens were punished for not taking advantage of their first half superiority when Partick scored in 42 minutes, and again the defence didn't cover themselves in glory. Neither Fordyce nor Brownlie took command of dealing with a loose ball in the box, allowing Sammon to nip in in front of them and leave Martin no chance with a shot low to his right hand corner. 0-1, a sickener for Queens just before half time.
After a pretty quiet start to the 2nd half, Queens found an equaliser in 54 minutes. Fergusson did well to hold of a couple of challenges as he burst into the box, but it looked like he had run out of space as he reached the left touchline around the 6 yard box. I'm not sure what happened next, I thought he just hit the ball as hard as he could, and from the near impossible angle, the ball somehow found it's way into the net, maybe taking a deflection off a defender, however, others have said that it was the defender who in fact played the ball off Fergusson while trying to clear, and the ball ricocheted into the net. Either way, Queens, and Fergusson, were happy to accept their equaliser. 1-1.
In 62 minutes Queen's inability to deal with corners was once again on display, as Rankin, I think, turned the ball back into our own 6 yard box, and was glad to see his team mates scramble the ball clear. Queens came agonisingly close to a winner in 73 minutes when Man of The Match Rooney headed a right wing cross towards the far post, with the keeper scrambling desperately to get there, the ball drifted slowly just wide of his post. At this point, I'm sure the Travel Club organisers would have been on the phone getting the busses booked up for the replay!
It wasn't to be through, as in 81 minutes we again failed to deal with a ball into the box. It looked like we might get away with it as Sammon's shot appeared to be heading straight for Martin, until it took a deflection which left the Queen's keeper helpless as the ball went out of his reach into the net. 1-2.
Queens immediately completed their substitutions, I do sometimes think we lose our shape when making substitutions, Mercer was now over on the left hand side, we had a back 3, and I had really lost track of who was supposed to be where (as indeed I thought some of the players had). We did though come close to equalising a couple of times. In 83 minutes Dobbie fired a cross come shot from the left side of the box, none of the players in the box managed to get a touch on it though, and the ball drifted just wide of the far post. The best chance probably came in 91 minutes, when after good build up play, Thomson found himself in a bit of space on the edge of the box, but his shot was partly blocked and bounced into the keeper's grateful arms. Dobbie could have saved it with what would have been a worldy in 93 minutes, as he cut in from the left, his change in direction left 3 defenders on the ground, but he just couldn't quite get onto the 1-2 he played quickly enough to get a shot away, and with that the tie was gone.
Scottish Cup dream over for another year then, Queens can get back to concentrating on making the play-offs. On this showing, we definitely need another forward (if Lyle really is out of the picture) but the rest of the side looks not too bad. Rooney was a revelation today, the guy who was getting skinned regularly by Championship wingers was suddenly giving SPL ones a 3 yard start and still getting back to take the ball off them, whilst breaking forward on lung busting runs on a regular basis. Keep it up!

Man of The Match : Rooney
Ferguson scores
All images by kind permission of ww.qosfc.com